What is the Lemon Law Process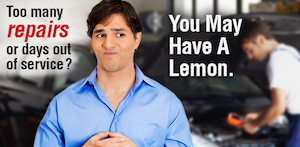 Don't let misinformation from your dealer, the mechanic at the repair shop, or the manufacturer deter you from using the lemon law process to seek a refund, replacement or cash compensation. Don't let them bully you into thinking you can't seek legal help or that you don't "qualify". Your rights are determined by the Lemon Laws in your state and the Federal Lemon Law (Magnuson-Moss Warranty Act). When you pursue a Lemon Law claim, you could receive a cash settlement or a refund on all or part of your purchase price. By standing up for your rights you prove to the big manufacturers that they must be held responsible for making less than satisfactory products.
How Does the Lemon Law Process Work?
Many consumers ask how does the lemon law process work and wonder how a lemon law claim proceeds if their vehicle or product qualifies. Each state's Lemon Laws are different; you may need an experienced Lemon Law lawyer to represent you. The attorneys at CarLemon have handled thousands of Lemon Law cases involving all sorts of products, including cars, trucks, vans, motorcycles, SUV's, RV's, boats, computers and other household appliances and consumer products. Though each case is different and the results may vary depending upon the facts, CarLemon can help explain the lemon law process and connect you to a" Lemon Law Lawyer who will make the manufacturer of your lemon pay your legal bill!*
You call (888) 565-3666 and we take all your information concerning your potential case, OR you complete our Free Lemon Law Case Review contact us form, or fax in your repair receipts to 866-773-6152 for review.
An experienced lemon law attorney reviews the information to determine initially if you have a claim.
The attorney's office calls you right away to go over the information and determine the strength of your potential lemon law or breach of warranty claim. All your vehicle purchasing and vehicle owning rights are evaluated during this process to see if any other federal and state consumer protection laws have been violated. For example, you may:

be paying a higher interest rate than you should and you may have Fair Credit Reporting Act rights to enforce;
have been forced to purchase items or services as a condition of financing in violation of the Truth In Lending Act;
have entered into an electronic payment agreement that is in violation of the Electronic Fund Transfer Act by misrepresenting your payment obligations and restricting your rights.

You fax, e-mail or upload copies of all your repair orders and the purchase contract if you have not already done so. You can also open a free account through our private, confidential case tracker.
A lemon law lawyer reviews all your paperwork and contacts you to let you know what a reasonable outcome to your case could be.
The defendant (the manufacturer or dealer in most cases) is put on notice of your claim and then the lemon law firm tries to resolve the matter without the need for court intervention. This method can be performed by an informal letter or by what is referred to as informal dispute resolution.
Throughout this portion of the process, should a settlement offer be made, you will be contacted immediately to discuss your options and counsel you on whether to accept or reject.
If no settlement is reached, suit may be filed in the court which serves your specific case needs best.
After filing suit, the process of discovery and disclosure begins by providing the manufacturer proof of its lemon law violations, and by asking for more detailed information from them in return. This step involves thoroughly researching all the facts and even some of the hidden clues of your case in depth.
Throughout this process, settlement is consistently urged, while at the same time preparing for trial. If a resolution cannot be reached after all the above, your case proceeds to trial. Less than 1% of all of cases go to trial.
In conclusion, the constant objective is to do everything possible to secure your total legal recovery and satisfaction. We want lemon law representation to be an experience which rewards you for your commitment to stand up for your rights against the big automobile manufacturers and their dealers. Contact us now for a Free Lemon Law Case Review, we will review all your information and let you know if you do indeed have a case.